Christina Downey
Practice and Marketing Manager
Christina is the Practice and Marketing Manager and founded RG Plastic Surgery with Dr. RG in 2016. She graduated from Ohio University School of Business with Bachelor's Degrees in Marketing and International Business. She further advanced her patient and practice education by completing the TOTAL DEFINER course with Dr. Alfredo Hoyos in Bogota, Colombia. Annually she attends ASPS, ASAPS, and Global Aesthetics Meetings. She has a passion for health, wellness and providing the best patient experience. In her spare time, Christina enjoys Pilates, traveling, spending time with her husband and stepsons and is an avid equestrian.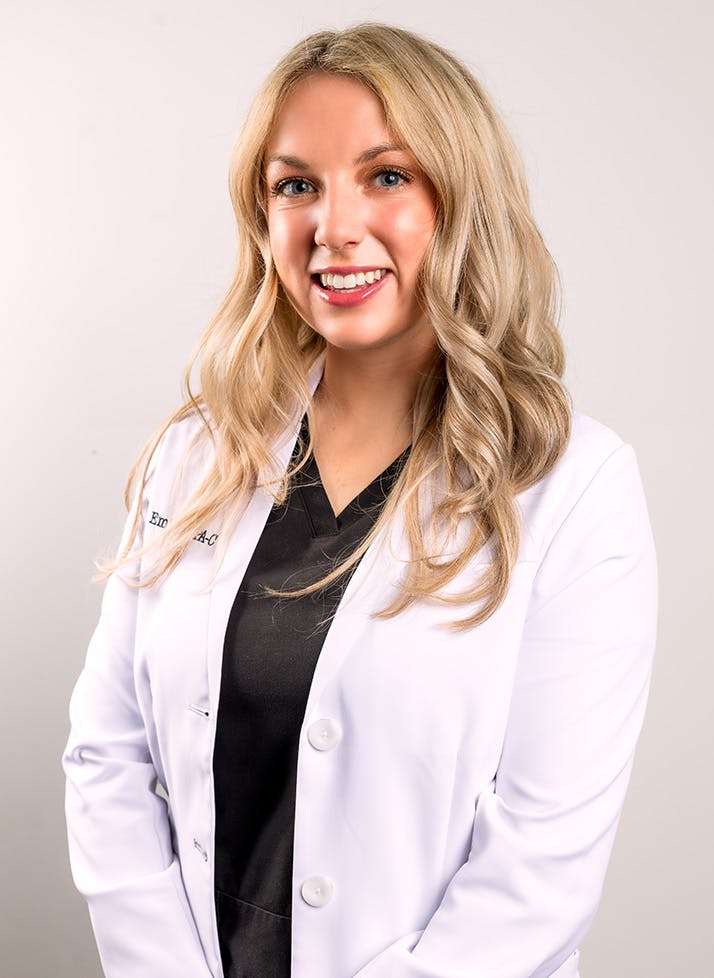 Emily Nelson
PA-C Physician Assistant
Emily is a nationally board-certified physician assistant licensed by the state of Tennessee. After receiving her bachelor's degree and graduating summa cum laude from Quincy University, she continued to Lipscomb University's School of Physician Assistant Studies where she was selected into Pi Alpha National Honor Society of Physician Assistants. Originally meeting our practice as a patient herself, Emily comes to RG plastic surgery highly recommended by her preceptors and professors. Emily is committed to advancing her medical and aesthetic knowledge while providing a comforting and supportive atmosphere for all her patients. Along with assisting Dr. RG in surgery and clinic, she has been receiving training in the use of neuromodulators and fillers. Additionally, she hopes to bring a focus on body wellness and rejuvenation to the practice. Emily is passionate about working with individuals to discover their aesthetic goals and enhance their unique features, leaving them confident and refreshed. Emily enjoys spending time outdoors hiking, biking, and boating. She loves learning new skills and advancing her techniques.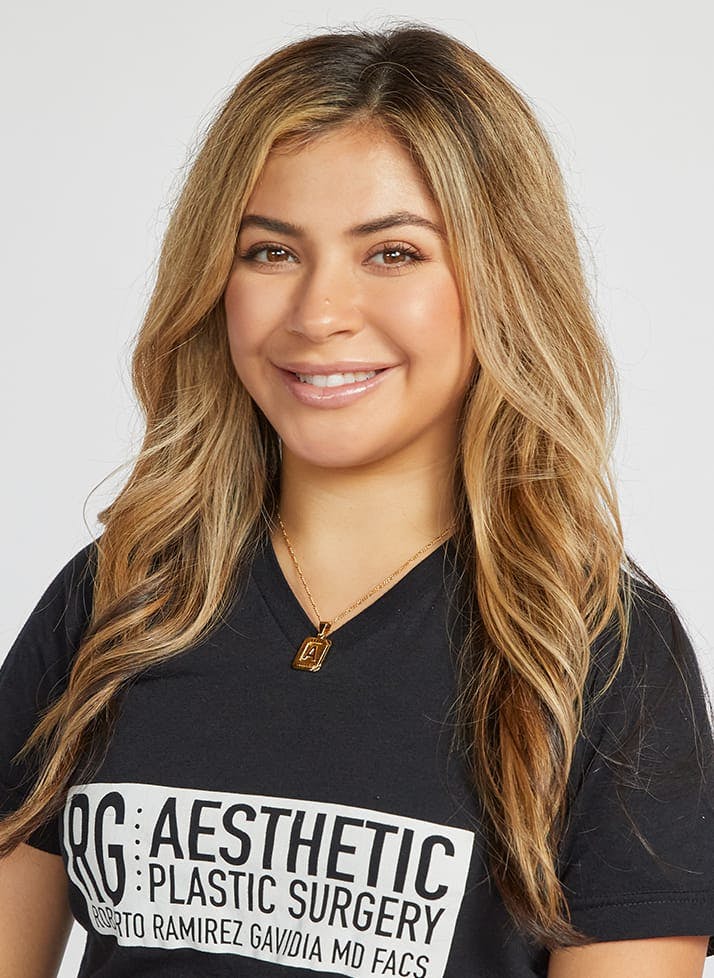 Andrea Vasquez
Patient Care Coordinator
Andrea is our bilingual patient coordinator that is originally from Los Angeles, California and moved to Nashville in 2017. She has been working in aesthetics and plastic surgery since 2016 and has attended ASPS annually along with continuing her knowledge in the industry. Her creative background brings expertise when it comes to social media and visual content. She enjoys assisting our Spanish-speaking patients with their care and providing an inclusive experience. Outside of work, you can find her perusing music and enjoying time with friends.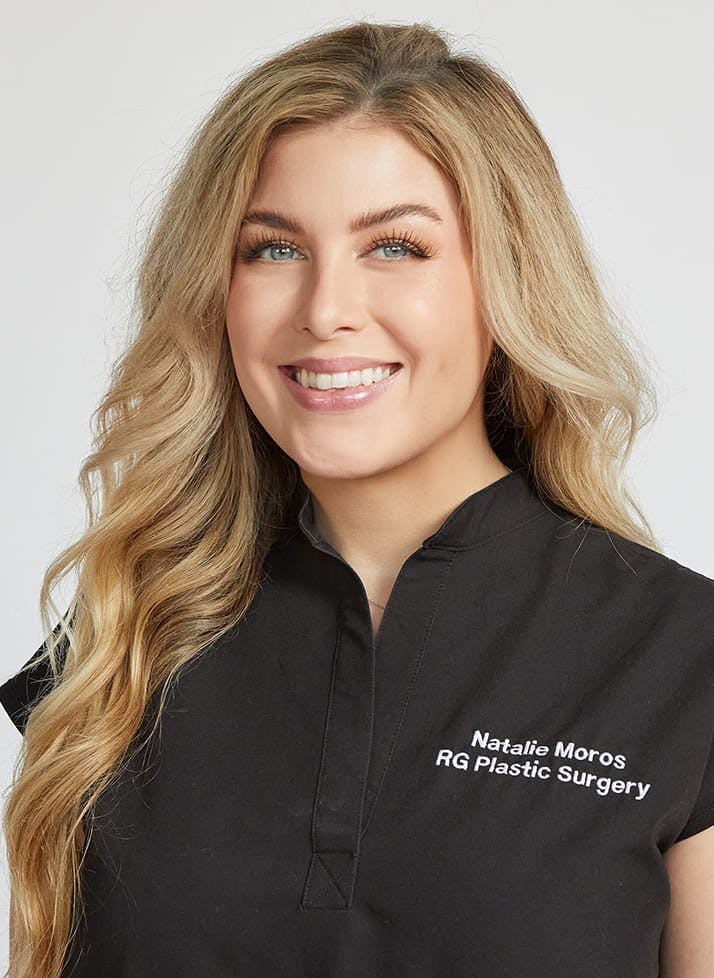 Natalie Moros
Skincare & Laser Technician
Natalie has been with RG Plastic Surgery since 2017. Natalie has completed extensive training in her field to become a certified skincare and laser technician. She has worked closely with Dr. RG to develop a personalized skincare line for our practice's patients and create our VIP club to help patients reach their goals
University of Georgia and University of Alabama Huntsville, Fine Arts Major
North Florida Cosmetology Institute, 2003
National Laser Institute, 2015
Advanced Peels training PCA, VI Peel, Glytone
Dr. Bitter BBL Preceptorship, 2017
Dermaplane Pro, 2018
Rockstars of Aesthetics, 2021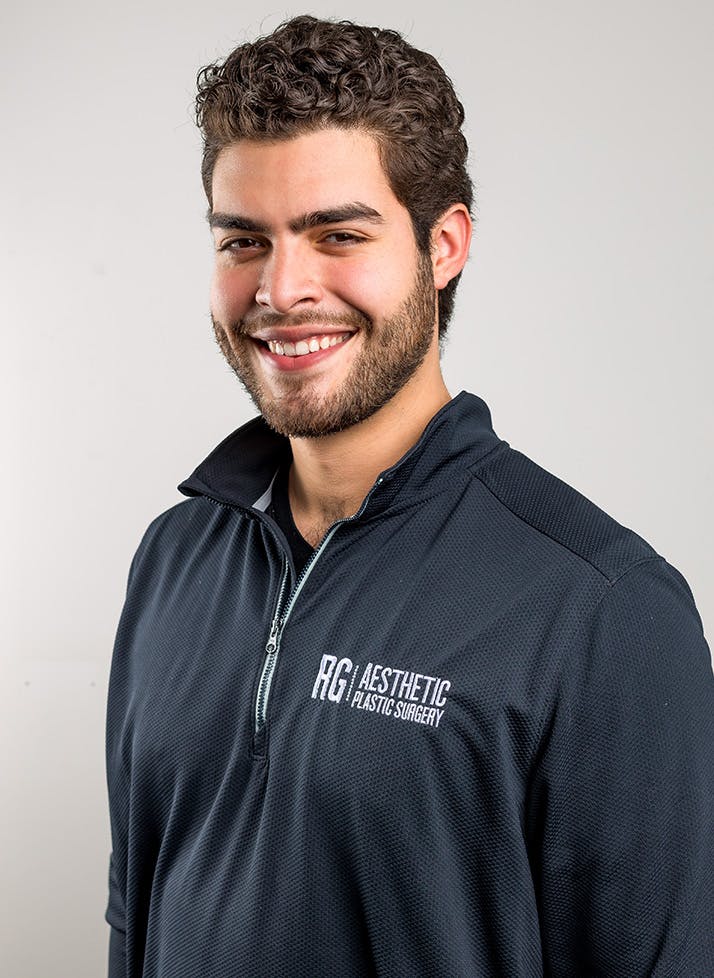 Jose Gonzales
Front Desk Receptionist
Jose is our bilingual front desk receptionist. He brings a welcoming and positive energy to the practice. He initially studied drama at NYCDA in New York City prior to switching career paths. He is currently taking classes at Nashville State pursuing a degree in Biology in hopes of one day attending PA school. When not at the office or working on school assignments, Jose enjoys spending time with family and friends trying new spots around Nashville. He plans to continue his biology track and grow in the practice.